Massage therapy is manual manipulation of soft body tissues – muscle, connective tissue, tendons and ligaments – to enhance a person's health and well-being.
Choose between a Swedish, Deep Tissue, or Therapeutic massage; or blend the modalities to meet your specific needs. Pressure is varied throughout the session based on client's comfort level, the integrity of the tissue, and how the tissue responds. A customized massage can offer stress reduction, improvement of posture, relief from chronic pain, better quality of sleep, and improved energy.
30 minutes | $35
60 minutes | $60
90 minutes | $85
120 minutes | $110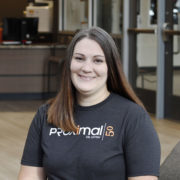 Megan Beck, LMT
Licensed Massage Therapist
Megan grew up in Rolla ND. She graduated in 2011 from Minnesota College of Business with an Associates of Science degree in Massage Therapy. Megan has always wanted to find a way to help others feel their best and massage was a great fit for her. In her free time, she enjoys spending time with her family, biking, camping and cross country skiing.